Every week, @JoeySplashwater will attempt to watch as much of the wrestling programs on Wednesday night as he can. There will be a short recap of each program followed by the pick for Match of the Night, Performer of the Night and who won the Wednesday Night Wars?
NXT
Bad stuff, mates. The only original content I enjoyed on this episode was the Sasha Banks and Charlotte interactions in their tag match vs. Emma and Dana Brooke. Sasha and Charlotte came off like stars with a presence showing they were ready for the next level. Emma and Dana Brooke, not so much.
Last week, I ranted about ROH recycling content and I feel the same way about NXT airing the Kevin Owens vs. Finn Balor match. Based off NXT and the Japan show both being on the Network and the audience being one in the same, it was definitely made to fill time due to not having enough talent to fill TV without Balor or Owens.
Solomon Crowe looked awful with a goofy promo now referring to himself as "The Resident Little Monster." Is he mimicking Lady Gaga fans? Is Lady Gaga still a thing? The tag match main event was W-E-A-A-A-A-K WEAAAAK. Unless you want to catch the short build to one final Sasha/Charlotte match, there's nothing to see here.
Grade: D
ROH
ROH had what is their ideal format for a television show this week. Random opener, relevant promo segment and an action packed main event. Dalton Castle vs. Watanabe wasn't anything special and sadly Castle's best work in ROH has come on house shows. Hopefully it's spotlighted better on PPV and TV soon. The Lethal/Roddy segment was fine and it's a nice choice for a secondary IPPV main event.
The Kingdom vs. reDRagon and Michael Elgin was a very good main event. If you're tired of the ROH trios match, then this may not be as fun for you as it was what you'd expect. The goal here was definitely to establish the futures of Michael Elgin and Adam Cole each.
Elgin turned face and the match was made to make him look great as he'll be representing Ring of Honor in the G1 Climax over in NJPW. The other story is Adam Cole beginning to turn face as well with dissension in the Kingdom. Cole and Maria Kanellis showed great expressions in a promo before the match that really set the story. I like that ROH is finally adding more direction for their upper card players as the last month or two of TV shows were straight matches with no development for anything or anyone aside from Jay Lethal and Jay Briscoe.
Grade: B
Lucha Underground
FINALLY! I've been putting over Lucha Underground as one of the greatest wrestling television shows all year and when I start this feature, the show absolutely sucks during the first two weeks. Luckily, the trend broke this week with a very good episode.
There were three matches (Willie Mack vs. Brian Cage, Son of Havoc vs. Mil Muertes, Team Patron vs. Team Mundo) and all were quite enjoyable. None reached the level of greatness that you should go out of your way to watch but they all provided entertainment while setting up Ultimo Lucha.  Vampiro and Pentagon Jr. also did some great work setting up their match for the big show.
The only thing that was bad on this show was the segment with Blue Demon Jr. and Texano. Whatever is going on between those two, The Crew and Chavo Guerrero continues to bring the show down. Fortunately, they only snored the show down with one segment this episode. Oh! And Super Fly. He stinks. Otherwise, the show was back to form.
Grade: B+
Impact Wrestling
Josh Mathews made a tweet about making lots of inside references on commentary so I didn't watch Impact. Sorry.
Grade: I heard it sucked.
Match of the Night
The Kingdom vs. reDRagon and Michael Elgin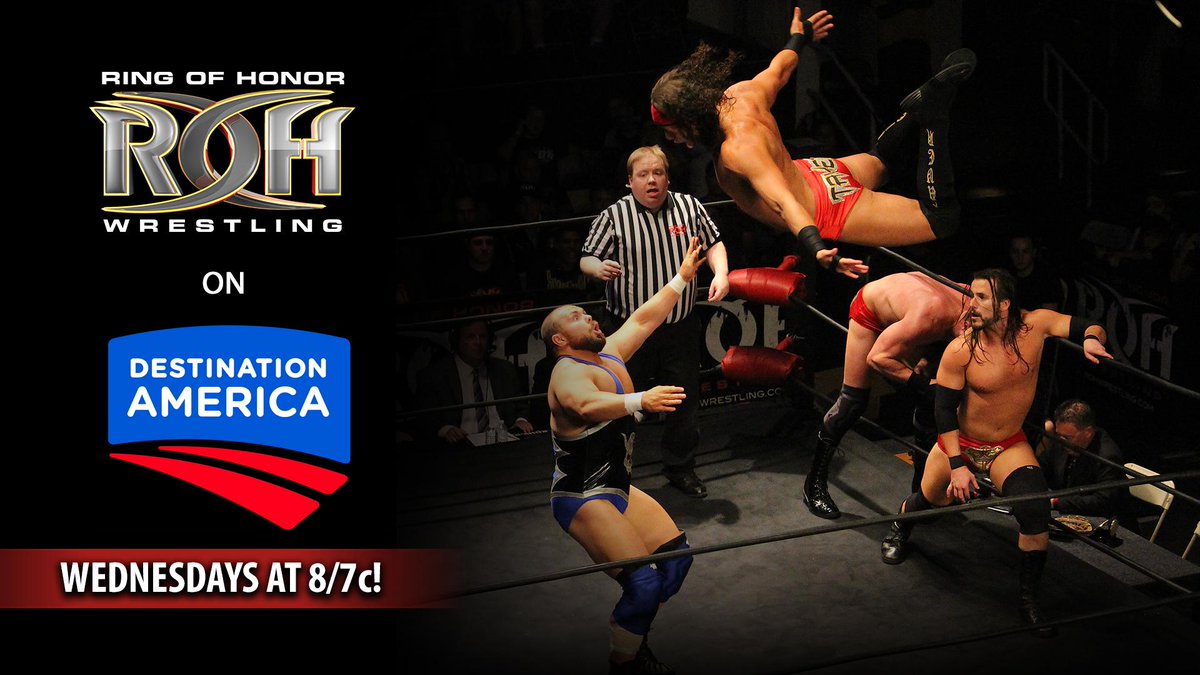 The ROH main event has won this category all three weeks so far. There weren't really any other candidates this week unless you count the replay of Balor/Owens which I didn't.
Performer of the Night
Sasha Banks
Despite only being on for a few minutes, Sasha Banks reminded you why she's an absolute star and needs to be on the main roster by Summerslam. Her promo, her in-ring work and her overall presence all were impressive. She's already my second favorite female wrestler of all time (behind Gail Kim) and she's yet to debut on TV yet.
Who won the Wednesday Night Wars?
Lucha Underground
Lucha Underground had the most consistent episode from start to finish this week.
Wednesday Night Wars Standings
NXT: 1
ROH: 1
Lucha Underground: 1
Impact Wrestling: 0