Welcome to the first edition of a new irregular (let's say once every three months!) feature on Wrestling On Earth.
Wrestling Is Awkward will be something of a light-hearted yet cold reminder that professional wrestling and social media are not a perfect match. Wrestlers, promoters, bookers, writers, fans (myself included as anyone who has or does follow me can tell you) can make a real ass of themselves. The Powers That Be and I decided it's high time we all reflect back on some of the more hilarious and strange moments.
"You won't believe what this person said before they joined WWE/TNA!"
Occasionally, a person involved in independent wrestling will feel comfortable enough with their station in life to bury WWE or TNA for one thing or another (both companies generally suck, to be fair). That's not the awkward part though. That comes when said person later begins to work for WWE or TNA and then has to promote that company all the time.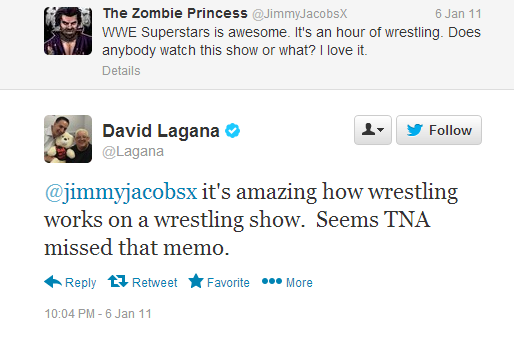 (Update: Despite Lasagna apparently bringing a "wrestling show" mindset to the company, TNA is usually still quite bad!)
Twitter Fun With Gabe
If Gabe Sapolsky left professional wrestling right after Death Before Dishonor 2008 and then disappeared from the "public" eye altogether, he would probably have become a romanticized hero among fans of American independent wrestling. Unfortunately, he "lived long enough to see himself become the villain" (Batman reference!). Between bad interactions with fans, clunky shilling of his wrestling companies, and just a general awkwardness that throws shade on everything he posts to Twitter and Facebook ("What did you think of #Raw tonight? #WatchROH #IWantWrestling), Gabe has become a proverbial punching bag for many. The tweet below is classic Gabe. There's a comment on WWE with a with a shoehorned plug for something he's involved in. The majority of the hashtags do not involve his companies. Begging for a Paul Heyman retweet (this one actually accomplished the latter). It's so ridiculously over the top in its Gabe-ness that part of me thinks he's actually in on the joke at this point.
Hey @WWE, that @HeymanHustle promo at the end of #WWE #Raw made me want to buy your Network, and I'm part of a Network #WWNLive

— Gabe Sapolsky (@BookItGabe) July 22, 2014
(Update: Gabe, of course, wins in the end as WWN hit the China jackpot. Remarkable turn of events considering that WWN has been a comedy of errors for years before that deal came together. Doesn't make his tweets/Facebook updates any less weird though!)
Awkward Comments from Male Fans in Regards to Females Involved in Professional Wrestling aka "The Jim From Virginia Memorial Category."
In all likelihood, this category will be in every single edition of Wrestling Is Awkward.
I feel bad picking on Dave for this one as he's clearly a very nice guy. However, this was actually the tweet that inspired me to start doing an article like this. I just can't for the life of me figure out why anyone (and there are HUNDREDS if not more) would tweet out compliments about Noelle Foley without realizing that almost any tweet in her direction comes across as very creepy.
Hoping next week, WWE books a @NoelleFoley appearance.

— Cartoon Dave (@DaveMuscarella) October 21, 2014
(Update: I hope Dave doesn't block me!)
The "Wait, Companies Still Do This?" Section
I feel like this sequence of tweets really just speaks for itself.
TNA @IMPACTWRESTLING's best performer is having surgery and oh man, are we depressed http://t.co/GWaqMsdJpE

— With Spandex (@WithSpandex) November 17, 2014
@aiwrestling @EthanCarterTNA hell yeah! #hellonearth

— Ryan (@ilryn) November 17, 2014
@Germano_Man @RebelTNA @EthanCarterTNA Just rumors on the sheetzzzz.

— AIW Wrestling (@aiwrestling) November 24, 2014
#HOE10 @EthanCarterTNA's replacement is none other than @MDoggMattCross.

— Ohio Indy Report (@OhioReport) November 29, 2014
NEXT MONTH! @JohnnyGargano and @JoshProhibition vs @MDoggMattCross and @EthanCarterTNA! #HOE10

— Ohio Indy Report (@OhioReport) November 29, 2014
(Update: Yes, apparently wrestling companies still fucking pull this nonsense in 2014. Carny until the end.)
Send me Category/Tweet recommendations! Check out the idiotic things I say on Twitter! Read things that I write!
If you'll excuse me, I have to go delete my Twitter history before someone does this type of article to me.